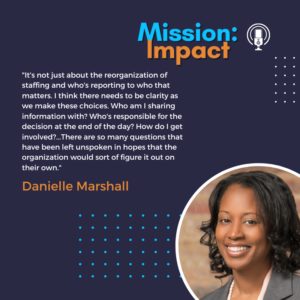 In a rapidly changing world, organizations are grappling with the need to redefine their structures, leadership approaches, and consider culture shifts. I am excited to join my friend and colleague Carol Hamilton, of Grace Sector Consulting, on Mission Impact Podcast for an ongoing conversation on issues impacting the nonprofit sector. We are dropping the jargon and "learning out loud" together.
In our first episode, we discuss the evolving landscape of organizational leadership and its associated challenges. Exploring the concept of co-creation, the significance of acknowledging power dynamics, and the importance of creating conditions for effective collaboration. Our conversation also highlights the need for leaders to prioritize self-care and adapt to the evolving needs of their organizations.
Are you a leader in the nonprofit sector? How are you navigating the shifting power dynamics and finding ways to prioritize self-care while adapting to the evolving needs of your organization? Share your story with us.
Mission Impact Co- Creation w/ Carol Hamilton and Danielle Marshall