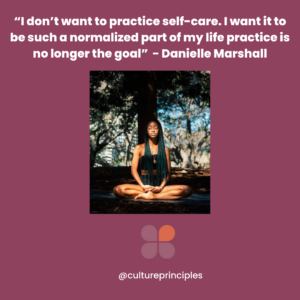 Earlier this year, I set a massive goal to set myself up for success in a way that would create more ease in my life. It started as I was on vacation and taking an early morning walk through the rainforests of Costa Rica. The fresh air, the sounds of the flowing water, and the Howler monkeys had me in a mystical head space. As I hiked up the mountain, I had an epiphany. If I could put in a little more time and energy on the front end, I would not only be able to achieve my goal but also ensure that a few years down the road, I would have a level of spaciousness in my day-to-day life that I could have only dreamed about in the past.
I was excited about this goal! I told anyone who would listen about it! I put in blood, sweat, and tears toward this goal! And then I realized I was wrong. In a rush to put my epiphany into play, I lost sight of the fundamental measure of success. See, the goal I had identified was not my ultimate destination; it was the mechanism to get me there. My goal was to create ease for myself and others. The reality is that I had traded in what had already been present and could have continued to be present for the idea that tomorrow was destined to be a brighter day.
In service of achieving the ultimate B.H.A.G. (Big, Hairy, Audacious, Goal), I nearly lost the opportunity to lean into the moment and enjoy the success of today. We can get so wrapped up in binary Either/Or thinking that we legitimately miss out on the benefits that Both/And offer. 
The hustle and busyness that once were a badge of honor have lost much of their appeal. Yet far too many of us have yet to make our way off the hamster wheel.
As we head into year-end, many of us are setting our sights on 2023 goals, and I am focused on how we might better apply a Both/ And approach to our work. We can seek to increase revenue AND build a positive team culture, achieve impact AND advance racial equity, and embrace strong work ethic AND play.
I am heading into a new season, acknowledging that when the stakes are high, restoration, community, and ease must be part of the equation, AND that is not mutually exclusive of intentionality and outcomes.
If you have been looking to reframe your racial equity goals to be more inclusive of a Both/And approach, there is no time like the present. I invite you to join us for our upcoming Reimagining Racial Equity Learning Intensive in January 2023.
https://www.culture-principles.com/reimagining-racial-equity/