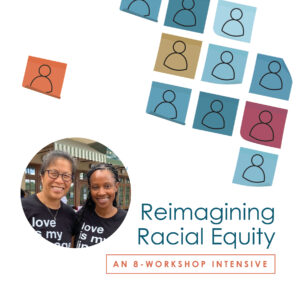 I'm thrilled to announce an upcoming event that's close to my heart – Reimagining Racial Equity
As a firm believer in the transformative impact of diversity, equity, and inclusion, I've seen firsthand how embracing these principles can revolutionize organizations and reshape perspectives. It's time to challenge the status quo, shatter unconscious biases, and break free from limiting stereotypes. Are you ready to join us on this journey of growth and empowerment?
Let's be honest – dismantling deeply ingrained beliefs and practices can be daunting, but it's essential. We must confront monolithic thinking and recognize that every voice, every perspective, adds invaluable richness to the tapestry of our society. Diversity is not just a buzzword; it's the cornerstone of innovation, creativity, and resilience.
Together, we can create workplaces that celebrate individuality and foster a genuine sense of belonging. Let's leverage our collective power to forge a brighter future for everyone. I've always believed that true change begins with the courage to challenge our own assumptions and biases. Let's be that catalyst for transformation.
Words hold immeasurable power – they can either divide or unite. Language shapes our perceptions and understanding, so let's wield it responsibly. Let's choose words that promote empathy, foster understanding, and break down barriers. By cultivating an inclusive narrative, we can bridge gaps and build bridges where none existed before.
Leaders, this is our moment to shine. We must lead by example, advocate for change, and hold ourselves accountable. Our organizations can be beacons of diversity, equity, and inclusion, setting a precedent for others to follow. The path to a more equitable world starts with us.
Join me and Wendy Moomaw and a cohort of like-minded individuals at "Reimagining Racial Equity: Embracing Diversity for Lasting Change." Let's inspire each other, share experiences, and equip ourselves with the tools to drive meaningful change in our spheres of influence.
Together, let's build a future where everyone thrives, regardless of their background or identity. RSVP now and be a part of this incredible movement for a more inclusive and equitable world. I look forward to connecting with all of you!