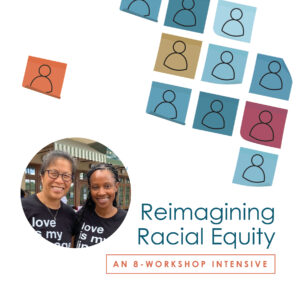 What does it mean to center racial equity? How can you use an equity lens to strengthen business practices? Why does racial equity matter? These are the questions that will guide our profound exploration in the upcoming eight-week workshop intensive, "Reimagining Racial Equity."
Join Racial Equity, Diversity, and Inclusion (REDI) Strategist Danielle Marshall of Culture Principles and Executive Coach Wendy Moomaw of the conscious collaborator® for an immersive experience that will revolutionize your understanding of racial equity.
Unveiling the Essence of Racial Equity
Racial equity is a transformative perspective that seeks to dismantle systemic barriers and create a world where everyone can thrive, regardless of their background. Throughout this program, we'll delve into what racial equity truly means, differentiating it from mere diversity and inclusion. Prepare to embark on a journey of self-discovery and unlearning, shedding light on perspectives that have been long overlooked.
Strengthening Your Business Practices: An Equity Lens
Imagine equipping yourself with the tools and insights to view your business practices through an equity lens. Our workshop offers a structured methodology and approach that will empower you to apply racial equity principles within your organization. By embracing diversity and promoting inclusivity, you'll witness how racial equity becomes a driving force for success, enabling your organization to advance its mission and bottom line.
The Intrinsic Value of Racial Equity 
Racial equity isn't just a matter of moral obligation; it's the cornerstone of a just and harmonious society. As we co-create a space for dialogue and engagement, you'll have the opportunity to learn alongside: Wendy Moomaw, a Professional Certified Coach, and Danielle Marshall, a Certified Diversity Professional. Their guidance, along with the invaluable Intercultural Development Inventory Assessment®, will empower you to become an agent of change within your organization.
📆 Save the Dates: Your Journey Begins 📆
Mark your calendars for this transformative experience:
🗓️ Sessions 1-8: From September 19 to November 7, 2023, every Monday from 3-5 PM ET.
Sign up today https://www.culture-principles.com/reimagining-racial-equity/